Greetings and Wishing You Well!!!
Working from home you do occasionally have special guest that insist on helping. Today's "What Up With The Market?" is presented by my "Fur-Assitant" Baby Blu... lol
What's Up With The Market?
Alameda County Market Snap-Shot
March 12-23, 2019 - compared to - March 12-23, 2020:
Property Listings - - Down 43.7% (300 fewer properties)
Property In Contract/Pending - - Down 31.6% (200 fewer properties)
Property Withdrawn - - Increase 111%
On-The-Gound Insights
Sellers who want/need to sell are still in the market. Motivated Buyers who see opportunity are still in the market.
What Buyers and Sellers Are Asking?
The business of Real Estate is still moving forward...with modifications to reflect new reality. What this means:
Lenders are still lending
Appraisers are still conducting appraisals (in person, desktop, or exterior-only; based on loan amount)
Title Companies are still working with Buyers and Sellers to sign closing documents (mobile notary)
County Recorders are still recording new sells and title transfers
Buyers and Sellers are having Virtual Property Tours instead of Open Houses and Brokers Tours
As always, if you have any questions, I am here for you. Call, email, or Text.
Be Safe, Stay Healthy, and Breathe...
- - Kimberly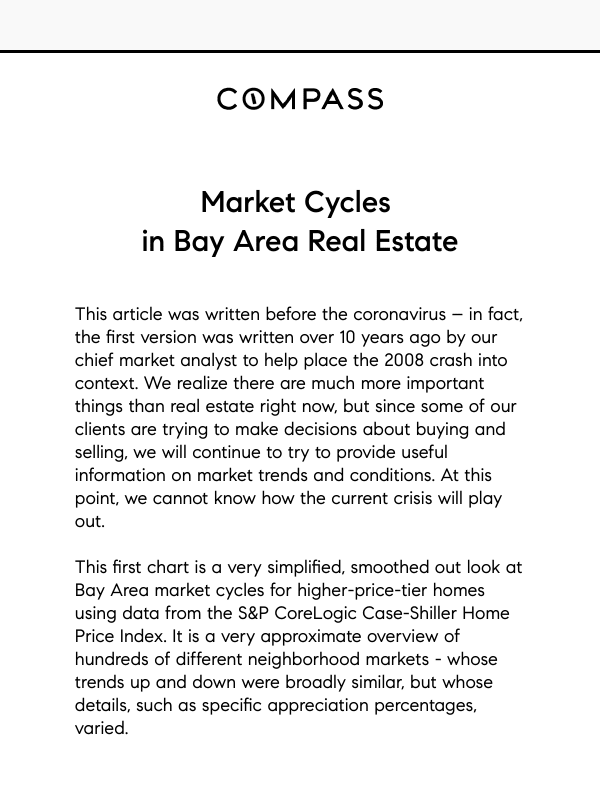 by Patrick Carlisle
Compass, Chief Market Analyst
San Francisco Bay Area